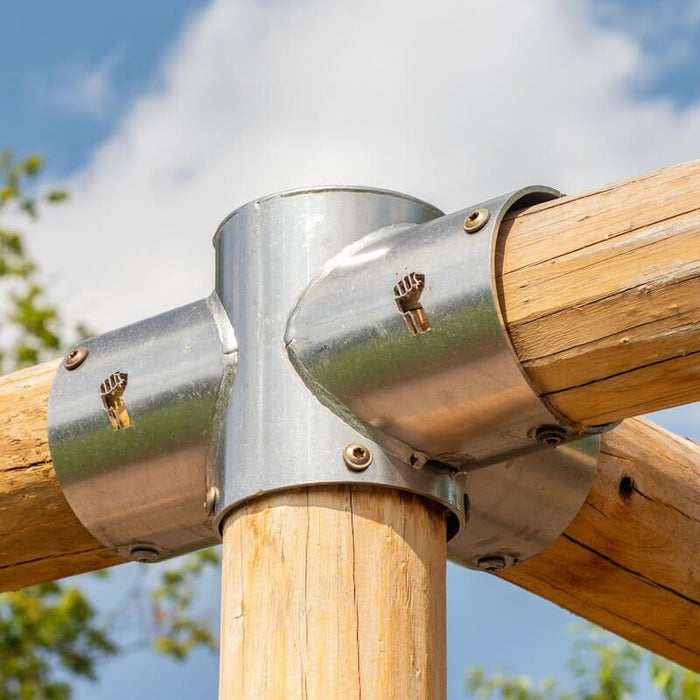 Tee section with lid
Original price
€295,00
-
Original price
€305,00
Stainless steel connectors for building an obstacle course. Super strong and suitable for all heavy work.
This type is the Tee section with lid and is suitable for mounting three horizontal posts on a vertical post. Loadable up to 2000kg!
Approved for use in professional obstacle courses.
Availability:
in stock, ready to be shipped
Availability:
in stock, ready to be shipped
Delivery
Delivery time: 1-2 working days
Free shipping from €100 and under 30kg.
Note

Approved for obstacle courses by the SBN, the Dutch Association for Survival Running (Obstacle Course Running).
And meets the standard of Dutch Defense and Police.
Use

T-section 14: All connector are suitable for a post of ø14cm.
T-section 14-16: Suitable for mounting three horizontal posts ø16cm on a vertical post ø14cm.
Specifications

Material: Stainless steel (304).
Material thickness: 4mm
This type is suitable for a load of 2000kg.
Including counter head screws 8x80mm of hardened stainless steel. Specific for outdoor constructions.
Features

Welded all around for a neat finish that prevents finger pinching.
Slots for drainage. This prevents water from remaining in the connector.
The lid prevents water from entering the top and extends the lifespan of the wooden pole.
Through the opening of the logo you can see whether the post has been pushed far enough into the coupling piece.