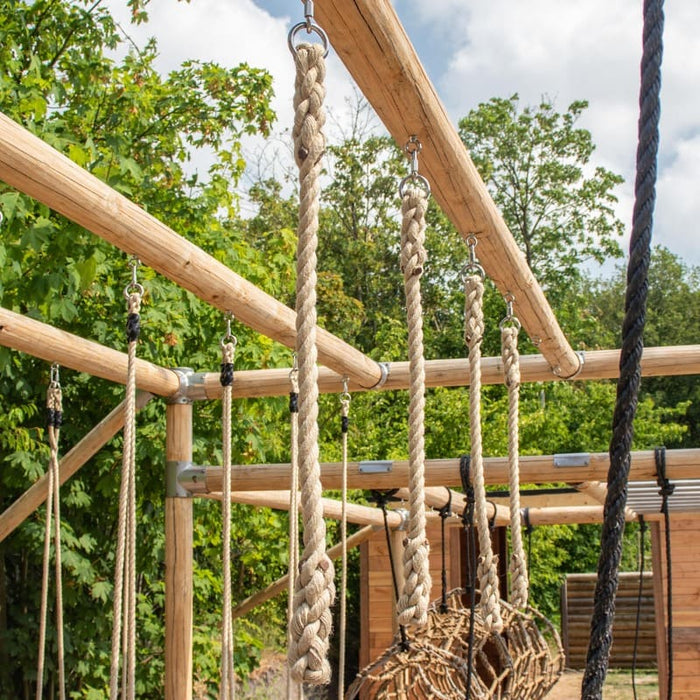 Short rope
Original price
€35,00
-
Original price
€44,00
Short ropes are a must-have in every obstacle course. With these professional ropes you can work out in beastmode. Hang a series of short ropes, one after another and train power, motor skills and endurance. Within weeks, the strenght in your hands, arms, and upper body will greatly improve.
The rope is made of polyhemp. This has a lot of grip and is soft and supple. The short ropes have a thickness of 3 cm and are suitable for teens and adults.
Delivery
Delivery time: 1-2 working days
Free shipping from €100 and under 30kg.
Note

You can select the length and version. A short rope with mounting ring or mounting loop.
The length of the rope is calculated from the top of the ring or loop to the end of the rope.
Use

Home use, OCR, Obstaclerun, CrossFit, Fitness, Gyms, Ninja warrior.
For teens and adults.
For indoor and outdoor use!
Specifications

1 short rope with a stainless steel mounting ring or a mounting loop.
Thickness: 3cm
Length: 1 - 1,5 meter
Color: natural
Material: Polyhemp (artificial Hemp)
Diameter loop: ø14cm
The end is finished with a splice. A splice creates a thickness in the rope and provides extra grip. And stops the end of a rope unraveling.

Features

Pro series
Made in Holland
Soft and flexible with a lot of grip.
Feels like natural hemp (fluffy).
Weather resistant, does not rot.