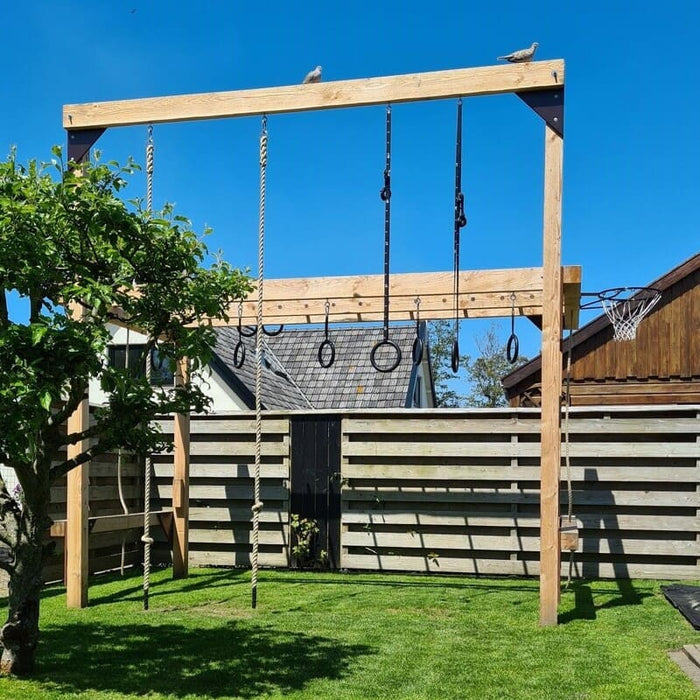 Obstacle Rig Construction kit 3x5 meters
Original price
€2.800,00
-
Original price
€2.800,00
An obstacle rig for the garden. This type has dimensions of 3m x 5m (width x length) and is 2.75m and 3,5m high.The obstacle rig is supplied as a construction kit with manual.
Delivery
Delivery time: Up to 30 working days.
Shipping NL € 250,- and BE € 375,-. Pick up also possible.
Varying rates for other countries. Contact us for more information.
Use

Deze obstacle rig is zeer geschikt voor in de tuin. Om te gebruiken voor training of voor fun.
Specifications

Dimensions: 5m x 3m (LxW)
Heights: 2.8m and 3.5m
Douglas wood C24 (structural use)

Features

Douglas wood
Monkeybar Xtra (incl. pegboard and ringpegs)
2x climbing rope
6x swing ring
1x ring set
Construction kit incl. manual
Note

This obstacle rig is made of Douglas construction wood with a high quality class. And it is resistant to all kinds of weather influences. For years of outdoor use! The rig is supplied as a ready-made kit including manual.