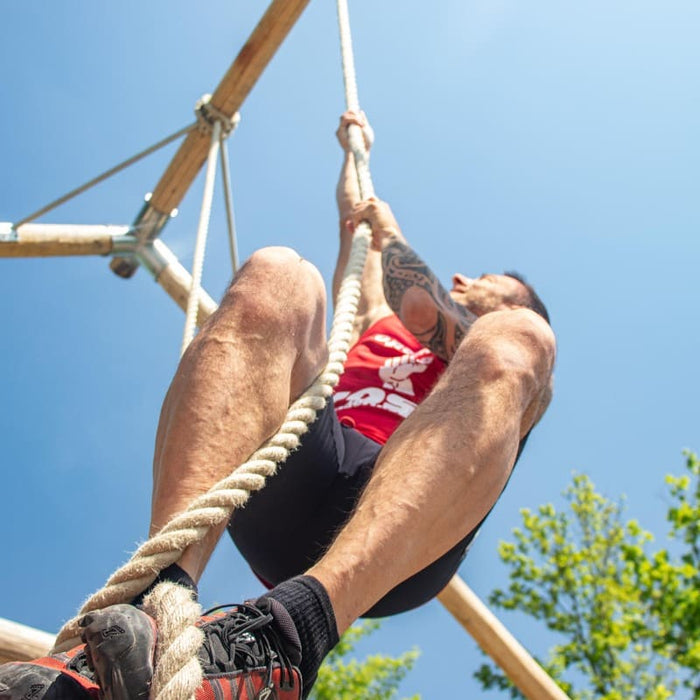 Climbing rope, Polyhemp
Original price
€49,00
-
Original price
€145,00
This climbing rope is made of polyhemp. This material is soft, supple, has a good grip, a natural look and it is suitable for outdoor use. In short, our best climbing rope!

The climbing ropes are equipped with a mounting loop or a mounting ring. You can easily mount it on a wooden beam, a steel tube, or a screw eye.
Available in lengths from 3 to 10 metres, and in thicknesses of 3cm, 3,5cm and 4cm.
Delivery
Delivery time: 1-2 working days
Free shipping from €100 and under 30kg.
Note

The length of the climbing rope is calculated from the top of the loop or ring to the end of the rope. Take into account the length needed to attach the rope to, for example, a beam or branch. If you put the rope around it, it is advisable to measure the circumference.
If you tie a knot in the rope, take into account an extra length of 25 to 30 cm of rope per knot.
Use

Rope thickness 3cm: Suitable for children and adults / climb and play rope for at home or obstacle course / Training for survivalrunning, obstacle run, boot camp / Suitable for the sledpull.

Rope thickness 3.5 cm: Youth and adults / Climbing rope for home, your gym or obstacle course / Training for obstaclerun, boot camp, Gym, Crossfit.

Rope thickness 4cm: Adults / Climbing rope for at home or in your gym / Training for Crossfit (specifically legless).

Specifications

Climbing rope with mounting loop or mounting ring.
Thickness: 30, 35, 40 mm
Colour: Natural
Material: Polyhemp (synthetic hemp). Same material as hempex and spleitex.

Features

Made in Holland
Soft and supple rope with a lot of grip.
Feels like natural hemp rope (fluffy).
Weather resistant, will not rot.
For indoor and outdoor
End of the rope finished with a sleeve. This prevents the rope from fraying.